A new clinical trial shows that adolescents and young adults with cerebral palsy (CP) enjoy stronger bones and greater mobility after training on a specialized vibration plate.
Researchers at the University of Auckland (New Zealand) and The Children's Hospital at Westmead (Sydney, Australia) conducted a clinical trial in 40 participants (11.3–20.8 years of age) with mild to moderate CP to study whole-body vibration training (WBVT) effects on muscle function and bone health. Study participants underwent 20-week WBVT on a vibration plate for 9 minutes a day, 4 times a week. Assessment measures included a six-minute walk test, whole-body dual X-ray absorptiometry (DXA), lower leg peripheral quantitative computed tomography (pQCT) scans, and muscle function.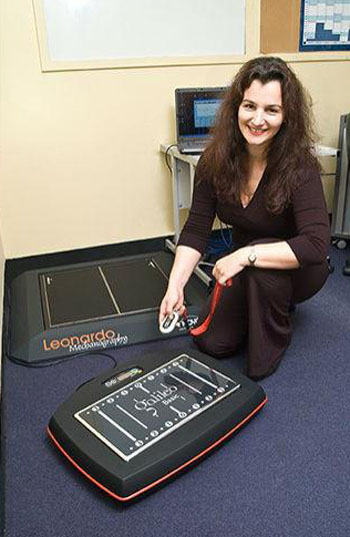 The patients stood barefoot on a special vibration plate that produced a see-saw movement, stimulating a movement similar to walking. The results showed that the 20 weeks of WBVT were associated with increased lean mass in the total body, trunk, and lower limbs. Bone mineral content and density also increased in the total body, the lumbar spine, and the lower limbs. Participants also improved the distance walked in the 6-minute walk test by 11 to 35%. The study was published on March 3, 2016, in Scientific Reports.

"We expected them to increase their bone mass and muscle mass, which is what happened. What we didn't expect was that their day-to-day functioning would also improve," said lead author Silmara Gusso, PhD. "The feedback from parents and caregivers about the changes they were noticing was especially encouraging: improved mood, greater maneuverability, and fewer falls. In a group with troublesome constipation vibration therapy was also unexpectedly beneficial."

CP is the most common cause of physical disability in childhood, affecting two of 1,000 children, and usually appears at birth or in early infancy. Children with CP have impaired muscle function, reduced muscle and bone mass, and a higher-than-normal risk of bone fractures. Muscles that normally work in complementary action will simultaneously go into spasm, making movement difficult, and over time the muscles waste. Treatments to relieve the disorders' effects are limited, and include botox injection, surgery, passive stretching, and injection of bisphosphonates to increase bone density.